The step-by-step system to quickly become the best Dom or sub you can be
You want to become a better Dom or sub,
but it's difficult to find a quality place to start.
You're at the beginning of your BDSM journey and want to take things to the next-level but you may be feeling:
Overwhelmed at where to start and how to be a better Dominant or submissive.
Frustrated because you've been scouring the internet for the tools and teachings you need to get started but it is a jungle out there.
Scared and longing to find safe and reliable resources, some of it is far from safe, sane, or consensual.
A desire to go beyond just kink and make this your actual lifestyle 24/7.
Run ragged by your "vanilla" life (work, kids, and family obligations) which made you put your needs on the back burner.
Envious of other people's kinky lives and relationships; you're missing out and you want that for yourself.
The internet is full of sleazy information, some of it plain scary or dangerous.
Dom Sub Training aims to fix that.
Meet the course that helps you become a better Dom or Sub today.
What's Included in the training?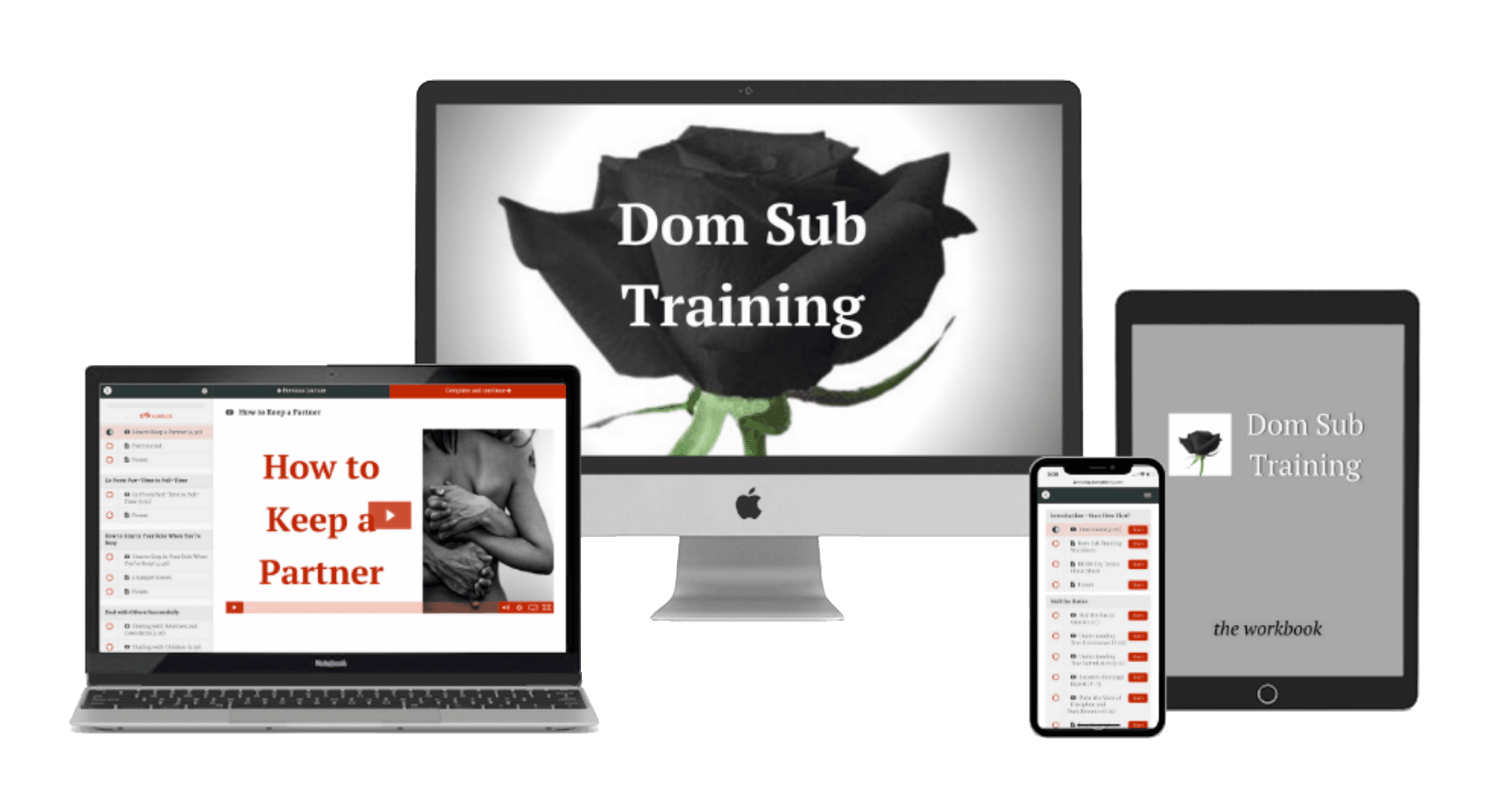 Lifetime access to all 7 modules with video tutorials, worksheets and FREE updates to the course. Forever.
Members-Only Area for Support & Feedback
100+ ideas for rules, rituals, and punishments!
Introducing… Dom Sub Training
Got your safe word ready? Here's what you'll learn:
How to become the best Dominant or submissive you can be.
Master BDSM skills safely – from communication to bondage techniques- and grow your confidence.

An actual step-by-step plan for living the lifestyle to the fullest.
The best and legitimate resources for mastering BDSM and kink, not creepy and cringy "instructions" from the dark basement of the web.

Find a genuine partner or jumpstart your current relationship.

A real-life glimpse of actual Dom/sub relationships and BDSM scenes.
Get all the information you need to become a satisfied BDSM expert—from finding a partner to dealing with the challenges of a long-term relationship—and a detailed plan to make it all happen.
Here's what you'll learn in each of the 7 modules:
Training Introduction
Learn how to define your kink preferences, focus on what makes YOU unique (so you can better connect with others), and discover how to use BDSM terminology correctly.
Nail the Basics
Learn everything you need to know to become a BDSM expert. We'll cover TRUE Dominance and submission, not what other blogs will try to tell you. You'll discover new bondage techniques to TRANSFORM your sex life, and discipline and punishment strategies that actually work.
How to Find and Keep a Partner
There are a lot of scary weirdos out there pretending to be a Dom or a sub. I'll teach you how to find a partner the RIGHT way so you can find your perfect match. Since so many new BDSM relationships fail, I'll share my surefire tricks for making yours LAST.
Go From Part-Time to Full-Time
Playing in the bedroom and on weekends is fun, but what if you could enjoy BDSM whenever you want? I'll share my step-by-step process for making it work 24/7.
Staying in Your Role when You're Busy
Become a better Dom or sub, even when you don't have the time. Learn my secrets for busy kinksters so you can avoid the dreaded vanilla rut.
Deal with Others Successfully
Did you know that many people will shame you for enjoying BDSM? You'll learn how to keep relatives and coworkers from sabotaging your exciting new lifestyle. Plus I'll show you surprising hacks for how to still have fun even if you have children.
Find Help to Go Further
You'll have seen some HUGE successes by the end of the training, but don't worry, I won't leave you on your own! I'll give you the extra tools you'll need to continue to increase your satisfaction on your BDSM journey.
Get these sexy, exclusive BONUSES when you enroll now…
My Personal Resource Cheat Sheet
$99 Value
Includes links for the top BDSM products and companies, the best websites for meeting new people, events and groups I love to hang out at, and directories for kink friendly therapists and educators.
Q&A Interview with my Dom
$79 Value
Hear a lifestyle Dominant with a decade of experience answer member's top questions. Steal his hacks and real-life tips while he gives advice on a wide range of subjects.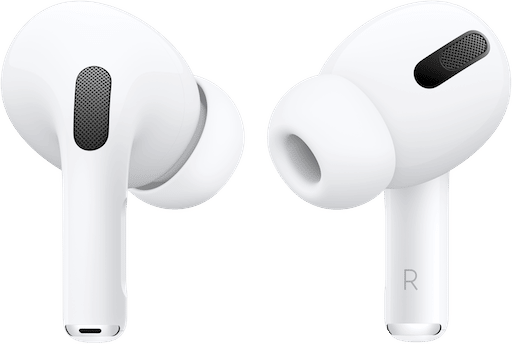 3 Sample Scenes
$59 Value
Read step-by-step tutorials to inspire your play sessions. Scenes include ageplay, bondage, Master/slave dynamics, female Dommes, male submissives, and more!
Over 2,000 kinksters have taken this course. Here's what some of them had to say about Dom Sub Training:
"Before the course I was concerned I was not being a good Dom. I didn't know if I expected too much or not enough. This course was just what I needed. Now I'm more comfortable and confident."
"We loved the content! The video tutorials are great and helpful. It's really improved our relationship."
"I wanted to become the best submissive that I can possibly be for my Dominant. This course gave me a great deal of confidence in myself and now I feel like he sees and feels the change every day. He has even complimented me on it!"
"This is the best course my wife and I have ever found. It has opened up so many new windows for us and possibilities that we did not think were even achievable."
"Absolutely love this course, just finished and excited about the end results! I have currently been meeting a few new prospective Doms using your tips from the training."
"My sub (wife) and I really needed a good mentor and the training has helped us a lot. Thank you!"
Is Dom Sub Training for You?
You want to stop wasting time and money on scary and creepy sites trying to find good quality information and people.
You want to stop struggling to come up with new ideas for punishments, scenes, rituals, and rules.
You're ready to master your role as a Dominant or submissive and have a genuine, committed partner.
You think BDSM and kink are gross or shameful.
You're not ready to make your needs and wants a priority.
You are a professional or advanced Dom or sub with nothing more to learn.
I love showing people like you how to create the kinky life you truly want
When my Dominant and I were first starting out, there was nothing available online to help us step-by-step on our journey. We were privileged to live in one of the kinkiest cities on the planet: San Francisco, California.
Although we had access to in-person classes, mentors, and communities, we know everyone isn't as lucky. Learning about and practicing BDSM can be very taboo; we aim to take the stigma out of it and teach people sane, safe, and sexy ways to explore the lifestyle.
This lifestyle is life-changing, but rife with red flags. I've witnessed people make huge mistakes, which comes with serious physical, mental, and emotional risks. As a professional BDSM instructor and Dom/sub coach, I want to help others on their journey. I also enjoy being a submissive in a successful 24/7 relationship, which has become one of the most powerful decisions I've made in my life.
So even if you're new to BDSM or have no idea where to begin, "Dom Sub Training" will become your step-by-step system for living a satisfying 24/7 lifestyle.
MY COURSES + WORK HAVE BEEN FEATURED IN…
Frequently Asked Questions
What if I'm brand new to BDSM?
Fantastic! "Dom Sub Training" will help you get a running start with exploring BDSM. You could spend years trying to figure out how to live the lifestyle, OR you could start finding satisfaction NOW.
What if I'm already living a Dom/sub lifestyle 24/7?
Would you like to increase the satisfaction you experience every day? Almost everyone I meet – no matter how long they've been playing – has huge challenges they're struggling with. In "Dom Sub Training," I share the BEST strategies that will help you quickly take things to the next level, no matter how many years of experience you do or don't have.
Can I take the course with my partner?
Absolutely! I actually encourage couples to go through the course together, so after you enroll, you can share your login information with your partner. That way you can both access it, take the course together, and massively improve your dynamic.
How long do I have access to the course?
How does lifetime access sound? After enrolling, you have unlimited access to this course, and all updates, for as long as you like – across any and all devices you own.
What's your refund policy?
I am 100% confident in the quality of Dom Sub Training and the transformation it provides!  If you are unsatisfied with your purchase after going through the entire course and taking action, simply contact me within the first 30 days and I will gladly give you a full refund.
I have one more question before I sign up.
No problem! Just send me a message using the chat box at the bottom right corner of this page and I'll get back to you.
Ready to become the best Dom or sub you can be?
The Dom Sub Training Course
Members-Only Area for Support & Feedback ($199 Value)
Hands on "How-To" Videos ($399 Value)
Q&A Interview Recording with My Dom ($79 Value)
My Ultimate Resource Directory ($99 Value)
The Dom Sub Training Workbook ($39 Value)
3 Sample BDSM Scenes ($59 Value)
PAY IN FULL BONUS: Scene Creation Worksheets ($49 Value)
3 MONTHLY PAYMENTS OF
$119
The Dom Sub Training Course
Members-Only Area for Support & Feedback ($199 Value)
Hands on "How-To" Videos ($399 Value)
Q&A Interview Recording with My Dom ($79 Value)
My Ultimate Resource Directory ($99 Value)
The Dom Sub Training Workbook ($39 Value)
3 Sample BDSM Scenes ($59 Value)
PAY IN FULL BONUS: Scene Creation Worksheets ($49 Value)
Copyright © 2022 Dom Sub Training. All Rights Reserved.